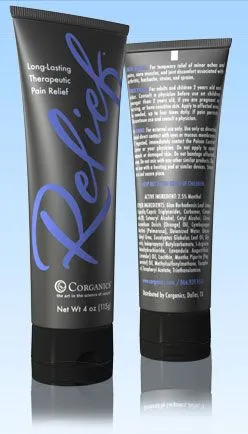 Relief Works Better
It provides temporary relief for chronic and acute aches and pains, sore muscles and joint discomfort. Relief has been widely used and loved in Medicine and Sports Medicine. It consistently produces amazing results that are more effective, faster, and longer lasting than any other product patients have tried.
Relief Works Wonders
Patients frequently report positive results because of Relief's superb efficacy and excellent value. Its proprietary formulation contains only the highest quality of raw ingredients with a pleasing fragrance. Its unique combination of essential oils, MSM and L-Arginine supports the active ingredient, Menthol for notable results.
Relief Really Works
We believe there is nothing available over-the-counter that is more effective or versatile in relieving pain. As a more natural solution to pain, Relief is fast and easy to use. It penetrates deeply to get the job done at the site and source of pain.

Click The Following Links For Further Products

Nutrition