Learn About Neurological Disorder Treatments Through Atlas Orthogonal Chiropractic Care


Terri's Story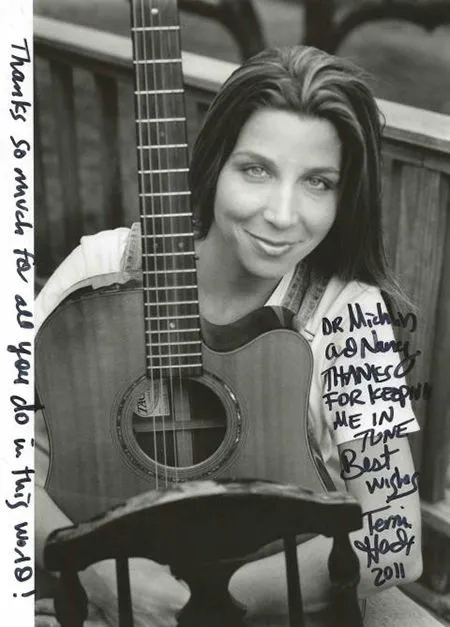 June 2011

I was born with a medical condition called, "Chiari Malformation." I've had seizures, perhaps as a result, for most of my life. The past several years both of these neurological conditions have given me grief. Before I had an adjustment at Back to Health Family Chiropractic, I was prone to choke on my food when I had a flare up with my chiari malformation. Since I had my first treatment, I have not choked since. I can tell the overall clarity in my thinking is better as well. I'm getting more circulation at the base of my skull. Because of this, I'm experiencing a higher quality of life, a clearer speaking voice, and my blood pressure is more regular.

Both Dr. Chris and Nancy Michlin were extremely professional with my treatment. Their goal was to help me. They were able to explain the treatment and truly make a positive difference in my overall health.
July 2014
Getting treatments at Back To Health Family Chiropractic in Fort Worth, Texas, has proven to be one of the best things I've ever done for my health. I have a Chiari Malformation. Because of this condition, I have seizures (Epilepsy) and a myriad of other medical problems like hoarseness, choking, and low blood pressure. Dr. Chris Michlin was not only familiar with my medical condition, but he was able to treat it with his Chiropractic Atlas Adjusting Instrument. I also received nutritional counseling from Nancy Michlin. They're a medical team that treats me like a person and not a patient. Every time I've received a treatment from them, my symptoms have subsided. I highly recommend Back To Health Family Chiropractic.
If your skeleton's amiss ... go see Chris!
November 2019
Living a Seizure-Free Life! Treatment Plan with Atlas Adjustments!
Terri's Facebook Post: November 6, 2019
"I'm thankful for Chris and Nancy Michlin at Back To Health Family Chiropractic in Fort Worth. I'm vocal about my health challenges. By being straight forward about it, I'm able to turn a negative into a positive. I can help people. In particular, kids that have what I have. I have ... get ready ... Whole Brain Focal Tonic Clonic Temporal Lobe Epilepsy Secondarily Generalized. In short? It's Focal Epilepsy. I think the culprit is a Chiari Malformation. That's a condition where brain tissue extends into the spinal canal. And I'm really lucky that between my fancy light-blocking prescription glasses, diet, and an arsenal of both western and eastern medication, I enjoy a seizure-free life.
"Part of my health plan includes regular treatments at Back To Health in Fort Worth. They literally, get me "back to health." Chris specializes in the Atlas Orthogonal Technique. It's a revolutionary advancement in chiropractic upper cervical techniques used to find and correct misalignment of the spine.
"What's the result? Every time I get a treatment, blood flow circulates better, low blood pressure regulates, my eyes improve, potential choking issues disappear, and cranial pressure dissipates. I've been having treatments for the past several years now. Without a doubt, they helped give me my life back. They saved my career. And you know what else? I got two friends out of the deal. I love them dearly. So day #5 [of Thanksgiving gratitude posts] Chris, Nancy, and The Atlas!"
Terri Hendrix is an incredible musician. She tours around the country and often plays in the DFW area. If you would like to learn more about her music, please visit her site.
Link for Terri's music: https://www.terrihendrix.com/
51 Year Old Female, Singer/Songwriter, Martindale, Texas

---
For 11 weeks, a 23 year old patient has been suffering with dizziness, fainting, and seizures. She went to multiple doctors and had a series of tests run on her. No one could tell her what was wrong. She said she felt like an enigma and lab rat all in one. Her life was seriously compromised. She had been under care in our office for 15 days and has not been dizzy, has not fainted, and has not a single seizure since her first adjustment! She is getting her life back and is thrilled!
---
Noah's Story
Here is a timeline of an eight-year-old boy, who has been suffering from Compression of Craniocervical Junction (CCJ) symptoms from a traumatic injury. His miraculous results happened after only ONE Atlas Adjustment!

11/07/2017

As mentioned, Noah, an eight-year-old boy, came in as a new patient. He had been suffering from Compression of Craniocervical Junction (CCJ) symptoms for literally half of his life from a traumatic injury he had sustained at four years old (see photo above). His multiple symptoms and pain levels have been long and deep. His Mom has taken him to every doctor under the sun. She has been told that it is all in his head. She has been told that he is lying to get attention. Even the rest of their family did not believe that he has a "real" medical issue.
He and his Mom were at a loss at what to do next. "My son was worsening and in September he had stroke like symptoms at school. Five hours at an ER with zero help. We were running out of time!" On top of his pain, they both felt alone and dejected...until they came to our clinic. After the first adjustment, this little boy felt fantastic! He was like a different kid, full of energy and full of life! He hugged Dr. Michlin over and over again. He kept yelling, "You are the best doctor there is!" His Mom said that Dr. Michlin and I have both changed their lives more than we know. We are honored and privileged to help them get their lives back!
11/16/2017

His Mom posted the 5 Star Google Review listed below
"My son had a cervical neck injury at age 4 after a fall onto his head. He then changed. He was moody and said it felt like an ax was coming through his neck. He was angry and aggressive. He had balance and coordination trouble. This was new for my son who had developed normally to this point.
"We had doctor visits with 15 or so specialist over 4 yrs as my son is 8 now. We saw...cardiologist, psychologist, orthopedics, at least 5 neurosurgeons in Dallas/ Ft Worth and Houston. I even sent records to a research neuroradiologist in Israel. I sent records to Dr Rekate in NY and we found out that the cervical ligaments were too loose causing all the symptoms. His recommendation was surgery at age 10.
"He ordered physical therapy in meantime, but it only made my son worse! He was having chest pain, nausea, dizziness, headache, moodiness, vision trouble like double vision and blurred vision, leg pain behind his knees, painful bladder urgency.
"In September my son had left sided weakness and trouble walking. 5 hours at Cooks ER. I felt time was ticking on my son. I didn't want a surgery but I didn't want to wait and watch my son suffer. I found a treatment option online called ATLAS ORTHOGONAL. I saw that Montel Williams had it done. I saw it featured on an ESPN documentary that healed ex NFL QB Jim McMahon. I saw it featured on the Doctors show helping a lady who had fallen from a horse. I noticed that on the show her legs were uneven. I then looked at my son's legs. His were uneven! I just knew that we were going to try this!
"We found Dr. Michlin in Ft Worth and spoke to Nancy, his wife and business partner. Nancy calmed any fears I had about the treatment. We went in and got a very thorough and detailed evaluation! More than any of the medical doctors had performed. My son's c1 atlas bone was rotated right and the c2 bone was turned upward into the area of brainstem and the opposite direction of c1! He observed my son yell out in pain when he touched his neck. He measured one inch higher right leg.
"He did the quick painless procedure and immediately my son was now PAIN FREE. His legs instantly equal lengths! I was amazed. My son said to me on our way home "my hearing is better" and the next day he said his vision is better and ringing stopped in his ears! He is speaking clear, his mood is Happy again. He said he felt clearer in his thinking "not dumb anymore" and this Mom can live and breathe a little easier knowing after 4 yrs of suffering her baby is healed!!!
"Ten days so far with no complaints of any kind! If you are considering this treatment, Dr Michlin is the person to see. He is so kind to my son. My son had lost hope as did I after medical doctors told us they didn't believe him or it was a psychological problem. (I'm an ortho neuro nurse by the way quite ashamed of modern medicine.)
"Both Dr. Michlin and Nancy treated us with kindness and compassion. They knew the symptoms were real as they have unfortunately heard our story before. We thank God for leading us to Dr Michlin who healed my son of debilitating symptoms. Debilitating to my son and myself. I had even applied for disability for him. It's hard to watch your loved one suffer as a parent. Now, I feel alive again and we can move forward! If you know someone with chronic pain, take them to Back To Health Family Chiropractic. You will not be disappointed!!!"
11/20/2017
His Mom reported that all his senses have been continually improving.
11/22/2017
His balance had been diminished. He had failed two balance tests this summer. Two weeks after one atlas adjustment, he tested normal for his age.
11/29/2017
Noah has continued to hold his first atlas adjustment and his body has continued to heal. His Mom said, "He is thinking clearer and answering math questions with ease. Noah has returned to school and has had none of his prior symptoms (dizziness, shooting pain in his head, nausea, chest pain, vision trouble, leg wobbly feeling)." Noah said, "I feel so alive. I feel like a new boy!"
12/12/2017
Noah's Mom reported that his blood pressure has been as high as an adult's. He has been as high as 130/80. On November 2, 2017, the day of his initial exam, his BP was 108/58. Today, after one atlas adjustment, his BP was 99/56. His Mom said it was the best it has ever been!
Click The Following Links For Further Success Stories