Dr. Chris Michlin is a licensed Chiropractor serving the Fort Worth, TX community.

Dr. Michlin began healing people as a certified massage therapist in 1991. His clients were experiencing great relief; yet he realized without correcting the underlying issue, the relief was not going to be long lasting. Dr. Michlin knew he needed to further his studies to help people get to the root of the pain and health conditions.

Dr. Michlin graduated in 2001 from Palmer College of Chiropractic in Davenport, Iowa. He uses an entire system of chiropractic care called Palmer Package, which includes Gonstead, Thompson Drop, Derefield Leg Check, and Webster's Technique. He also uses the Sacral Occipital Technique (SOT), Cox Flexion-Distraction, and Activator Method.

Dr. Michlin is the only Board Certified Atlas Orthogonal chiropractor in North Texas. The results from an atlas orthogonal adjustment are often immediate and dramatic. Dr. Roy Sweat, the founder of the atlas orthogonal procedure, is considered by many to be one of the foremost authorities in the world on the cervical spine. Dr. Michlin was taught by Dr. Sweat, and he worked with Dr. Sweat for his externship.

Dr. Chris Michlin has been freeing people from pain in the clinic in Fort Worth, TX. As a Chiropractor with experience, Dr. Michlin is committed to promoting optimal health and well being of patients.
Dr. Chris Michlin has earned an advanced certification in Whiplash and Brain Injury Traumatology through the Spine Research Institute of San Diego in 2014 and 2018.

Dr. Michlin uses a "whole person approach." This approach to wellness means looking for underlying causes of any disturbance or disruption (which may or may not be causing symptoms at the time) and make whatever interventions and lifestyle adjustments that would optimize the conditions for normal function. Using this unique approach, Dr. Michlin is able to help you to accelerate and/or maintain your journey to good health.

Many families today are overwhelmed with packaged and processed foods which can have a negative impact on their health. Educating individuals and families on the best ways to consume rich nutritious food and how to live a healthy lifestyle is a passion of Dr. Chris and Nancy Michlin. That's why the Michlins have taken the time to obtain Health Coach Certifications through Dr. Sears' L.E.A.N. (Lifestyle, Exercise, Attitude, Nutrition) classes.

The courses are a three part series: Dr. Sears' L.E.A.N. Start/Dr. Sears' L.E.A.N. Essentials (focusing on healthy lifestyle choices for families and children ages 6 - 12), Dr. Sears' L.E.A.N. Expectations (teaching the needs of pregnant women, fetuses, and infants), and Dr. Sear's Prime-Time Health (examining what we can do to avoid pre-mature aging and body breakdown). These courses provided valuable information on how to make healthy nutrition and lifestyle choices while on a budget and pressed for time. The courses are about living a healthy lifestyle, not just starting another diet.

The Michlins have expanded the scope of their clinic, adding a new division based upon four pillars of health and wellness. The new division is Back To Health 4 Life! Get On B.A.S.E.! (Breathe! Act! Smile! Eat!) Call today to learn more about bringing LIFE back to your style!

Our practice specializes in gentle and specific upper cervical care, coupled with a wide range of full spine adjusting techniques. Gentle or firm, we are always directly aligned with your needs. Our goal is to help you achieve optimum health. We accomplish this purpose by relieving pressure from your nervous system and promoting positive lifestyle changes. All of which aid in removing pain, restoring proper function to your body, and getting you Back To Health and keeping you there!
---
---
---
Dr. Michlin won a Top Doctors in Fort Worth, Texas award for 2018 and 2019! He was featured in their January 2019 The Top Doctors Magazine! Here is the article about him! We are thrilled that his expertise in his field and his dedication to his patients are being recognized!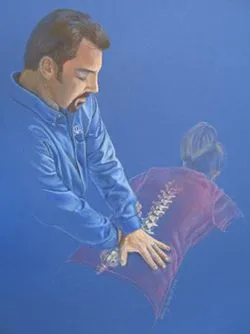 Artist: Stacey Olson Sachs: Murals To Life